Quick AC Repair Service in the Wichita Area
Need a quick and professional repair on a broken AC?
PD Plumbing Heating & Cooling is the Wichita area's trusted HVAC company to provide reliable AC repair service for homes and businesses. With a team of experienced air conditioning repair technicians, we can handle whatever problem you have with your cooling system.
No matter what brand of air conditioner or cooling system you have, we can service it. Our team is trained and experienced in repairing all types of air conditioning and cooling systems.
Give PD Plumbing a call for a quick AC repair to get your home feeling cool again - (316) 871-5499.
DON'T DELAY AIR CONDITIONER REPAIR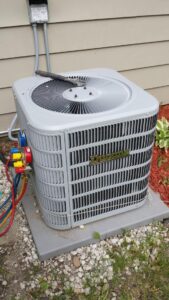 Hearing weird sounds coming from your air conditioner? Is your AC working harder to keep your home cool?
Even if your air conditioner is blowing out cool air, there may be other  indications that something is not quite right.
Why call for an AC repair for a small problem?
Even if you have a minor issue like a dirty unit or a loose part, that shouldn't get ignored. Little issues usually require quick, inexpensive repairs - but only if you get them handled right away. If you wait, little issues can turn into big problems.
An HVAC system requires a lot of different components to work to consistently put out cool air. If any of the components are not working properly, the whole HVAC system could become damaged. In addition, your AC will not operate efficiently.
QUICK & CONVENIENT AIR CONDITIONING REPAIR
Call PD Plumbing Heating & Air Cooling for the repair you need at (316) 871-5499. We service homes and businesses in the greater Wichita, KS area.
If your broken AC is beyond repair, our certified technicians can replace it with the installation of a new highly efficient air conditioner.
PREVENTING BIG AC REPAIRS
The best way to prevent your air conditioner from breaking down is by performing proper maintenance. Change your air filter on a regular schedule. Do any necessary cleaning of your outside AC unit before the weather starts heating up.
While you can do much of air conditioning maintenance yourself, it is a good idea to have HVAC professionals provide thorough maintenance and tune-up service to ensure nothing is missed.
PD Plumbing Heating & Air Cooling technicians provide maintenance and tune-ups to cooling systems to make sure your system is ready for the next hot Kansas summer. Our checks and tune-ups can identify little issues.
Call PD Plumbing Heating & Air Conditioning for maintenance service in the Wichita area at (316) 871-5499.