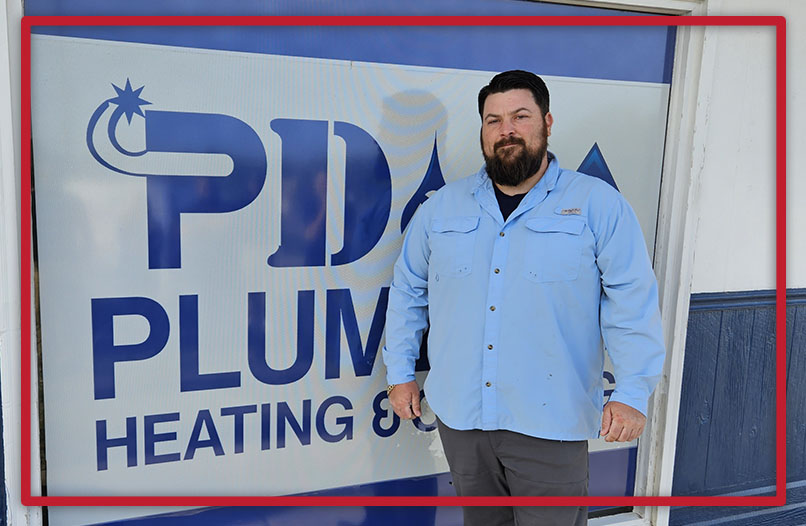 Britt Moore, Owner
Britt Moore first opened PD Plumbing Heating & Cooling in 2011. He started the company with many years of experience under his belt. Britt has been a plumber since 1998. In fact, he is a master plumber.
Britt was born in Wichita and went to school in Hutchinson. Him and his wife Brandi are raising their son, Dylan.
When he's not busy help to keep all of PD's customers getting the high quality of service they rely upon, he enjoys spending is free time fishing and hunting.
He also enjoys inventing new things. Britt invented a device called a Bottle Bobber. This is a fishing line float adapter that attaches to any plastic bottle, turning it into a bobber!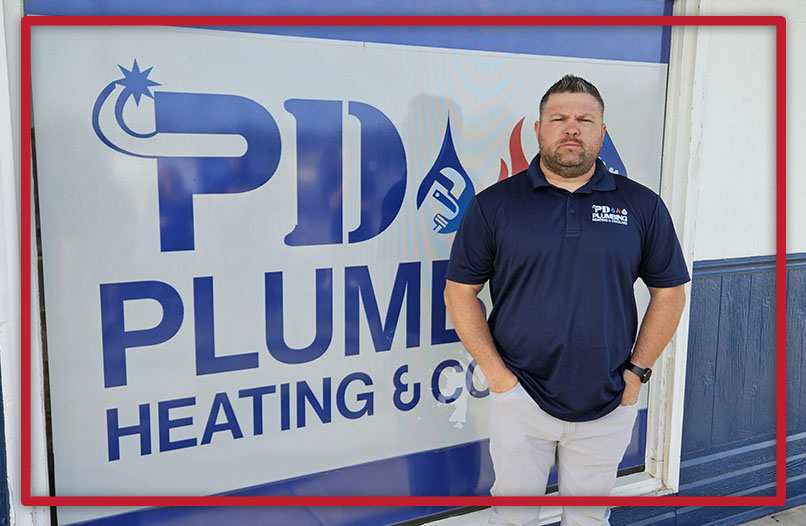 Matt Moore, General Manager
As General Manager of PD Plumbing Heating & Cooling, Matt Moore is the company's fearless leader. Matt opened PD back in 2015 with a commitment to provide excellent service from highly skilled professionals to homes and businesses across Wichita, KS.
Matt and his wife Julia are raising three children here in Wichita. When not busy with his family or running PD Plumbing, Matt enjoys a variety of activities. He enjoys fishing, hunting, and four-wheeling in his jeeps.
Matt also keeps busy in the Wichita community, being involved with several charities. Matt puts on a Jeep Toy Run every year, raising money for Toys for Tots. He works to raise money for two other Wichita charities. In 2022, PD Plumbing Heating & Cooling sponsored several local charity events through the year including raffling off a brand-new customized Jeep Wrangler!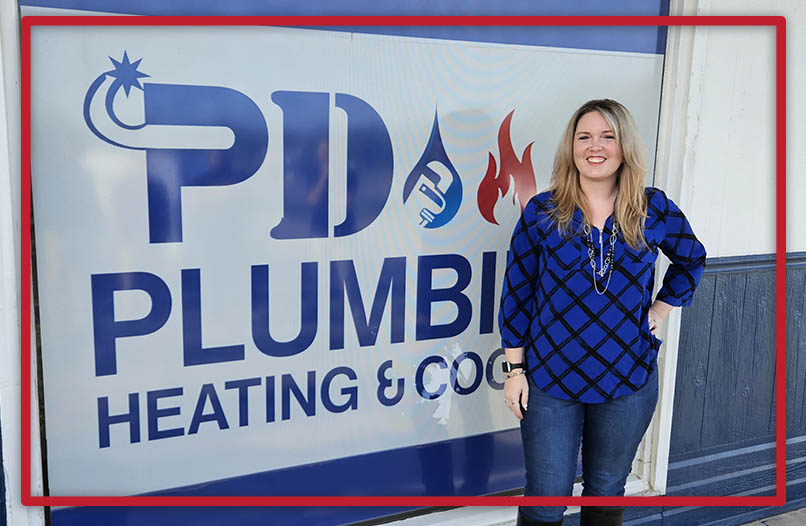 KAYLA POPWELL, OFFICE MANAGER
One of the reasons why PD Plumbing Heating & Cooling is able to provide so many services for people across the Wichita area is because of Kayla Popwell. Kayla is our talented Office Manager who keeps things running smoothly. She's been running the PD office since 2020.
Kayla is both experienced and highly trained at what she does. She came to PD with several years of experience as well as an Associate Degree in Business Management.
Kayla was born in Anthony and went to school in Harper. She and her husband Tyler have 2 girls and 2 boys. Kayla enjoys traveling, home improvement, hosting events for family and friends. You might catch her belting out a tune singing Karaoke! Kayla is not your typical pet-owner. Her has a chameleon, a leopard gecko, and a ball python.
Kayla has a goal to visit all 50 states and is halfway there!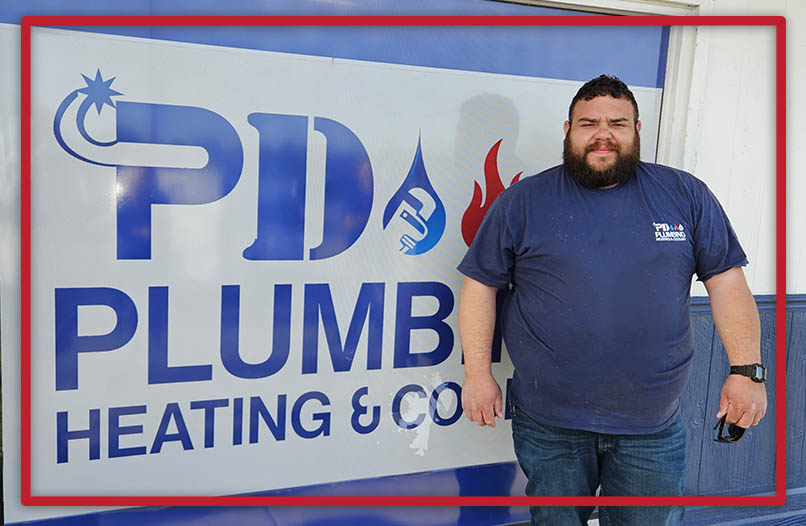 JACOB ELDREDGE, FIELD SUPERVISOR
Jacob Eldredge is a plumber at heart who helps ensure our customers are getting the best service as PD's Field Supervisor. While he joined PD in 2021, he's been a plumber since 2003.

Jacob has a lot of interest. He loves to cook, go bird watching, and enjoy a good beer.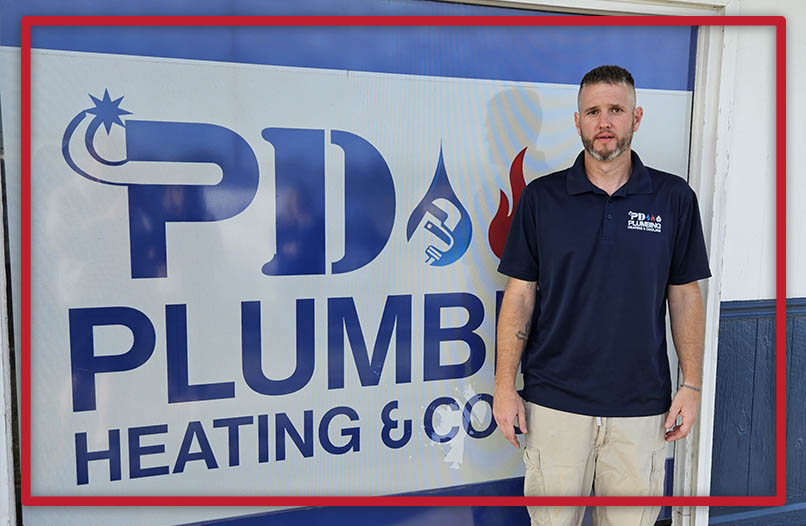 From unclogging a drain to installing sewer line and everything in between, Aaron Routh is a Wichita plumber you can rely on to handle any sticky situation.
Aaron joined PD Plumbing Heating & Cooling in 2019, already having many years of experience under his belt.
Aaron was born and raised here in Wichita, but attended school in Wellington where he earned his Associate Degree in Business. Aaron loves spending time with his children – two boys and four girls.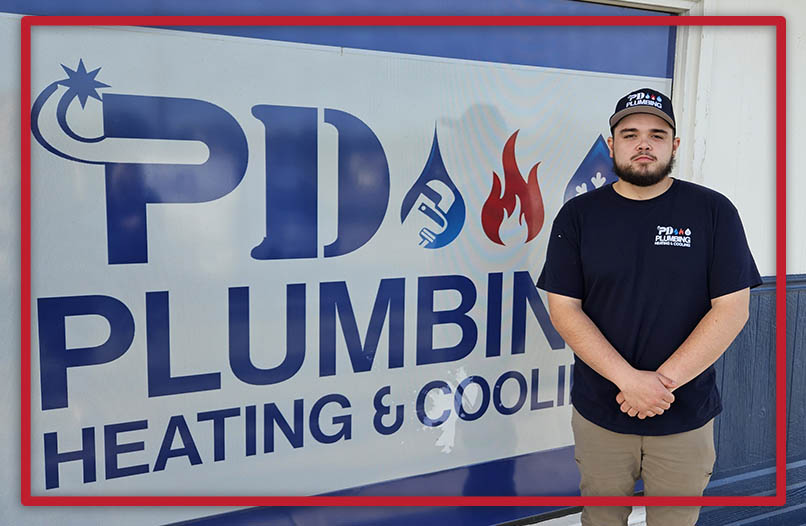 When it comes to plumbing problems, Cooper Reid has your fix! Cooper is one of the many experienced Wichita plumbers at PD Plumbing Heating & Cooling.
Cooper hails originally from Lawton, Oklahoma. He has a lot of interests that keep him busy. Cooper loves sports, especially football and baseball. He also enjoys fishing, shooting, card games & anything that gets him outdoors.
One noteworthy about Cooper. He has the best-looking pit bull in all of Kansas (we're not sure of his exact qualifications, but we will take Cooper's word for it).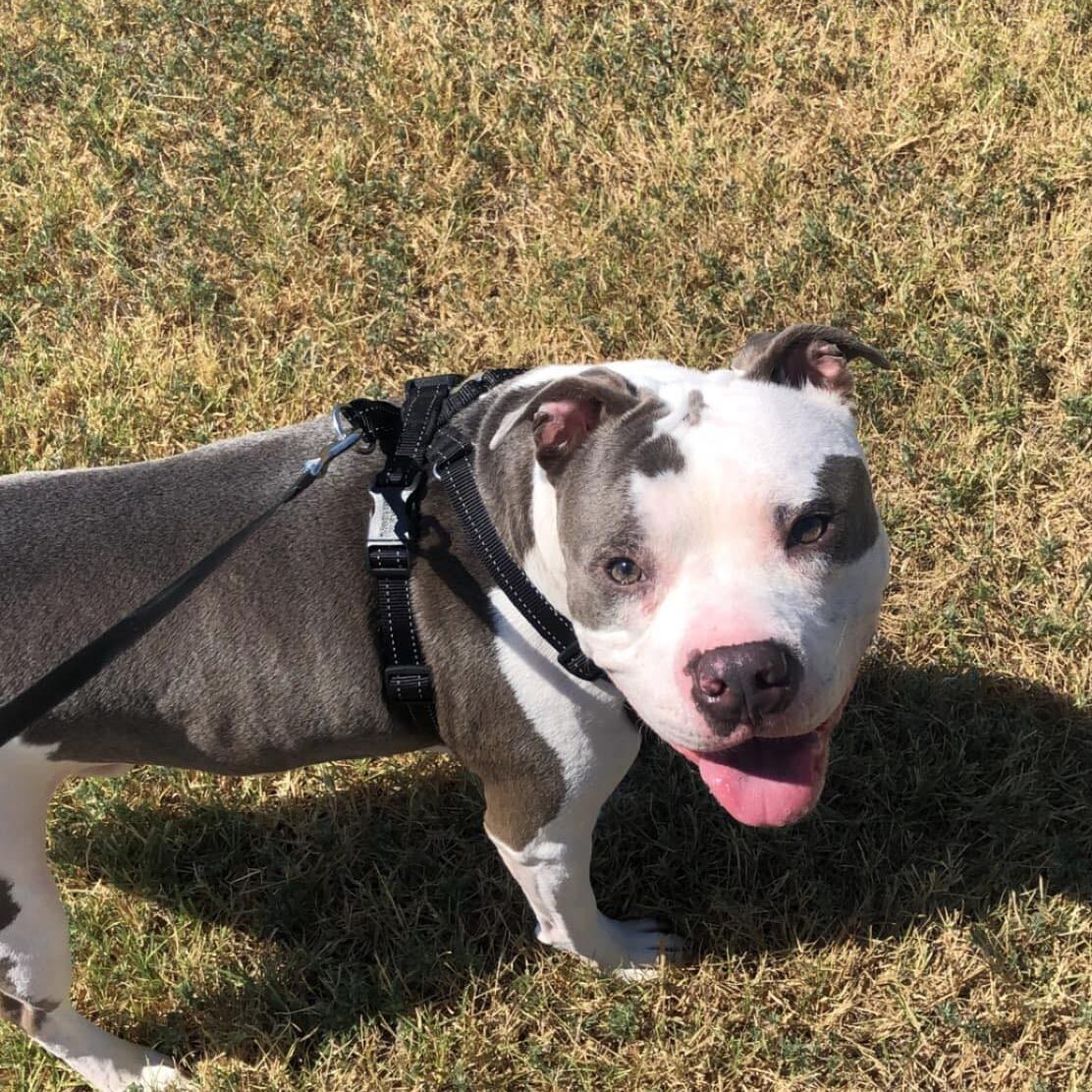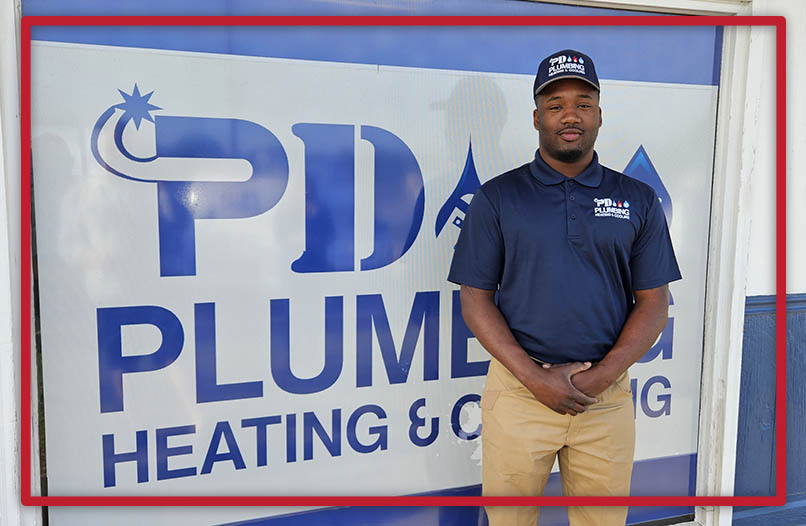 Tyler Wright is one of the many experienced plumbers with us at PD Plumbing Heating & Cooling. He joined us in 2022 and has since cleared hundreds of sinks, toilets and drain lines all across the Wichita area.
Tyler was born in Wichita but went on to school in Andover which is where he lives now.
When not busy handling the plumbing needs of PD customers, Tyler likes seeking out adventure. You're likely to find him riding motorcycles or out boating.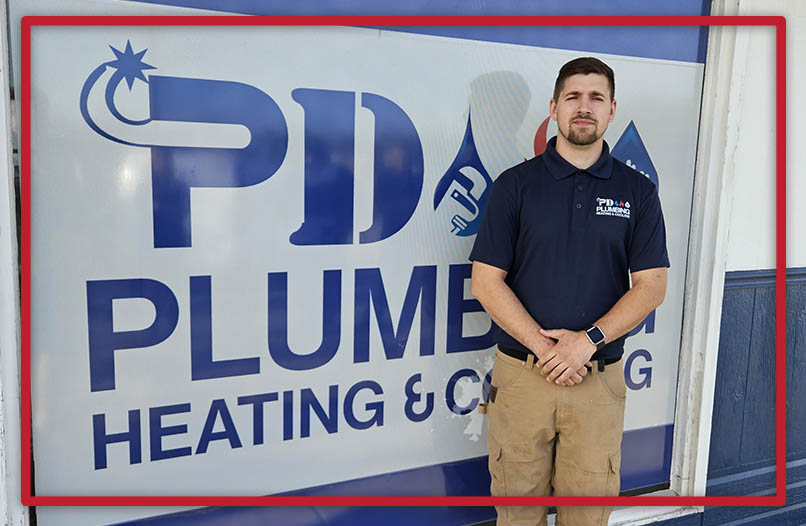 From AC repair to installing a new furnace, Hunter Tilson is one of the HVAC technicians at PD who can make sure your home is comfortable all year round.
Having joined the team back in 2019, Hunter has been relied upon by Wichita homeowners for year to keep their heating and air systems running well.
Hunter was born and raised right here in Wichita, KS. But he headed to Kentucky to advance his education. He earned his apprenticeship at Sheetmetal School.
Now, Hunter is back in Wichita along with his wife Julia and their family. With a young daughter and son, Hunter and Julia are kept busy! Outside of work and his family, you'll often find Hunter spending time playing guitar.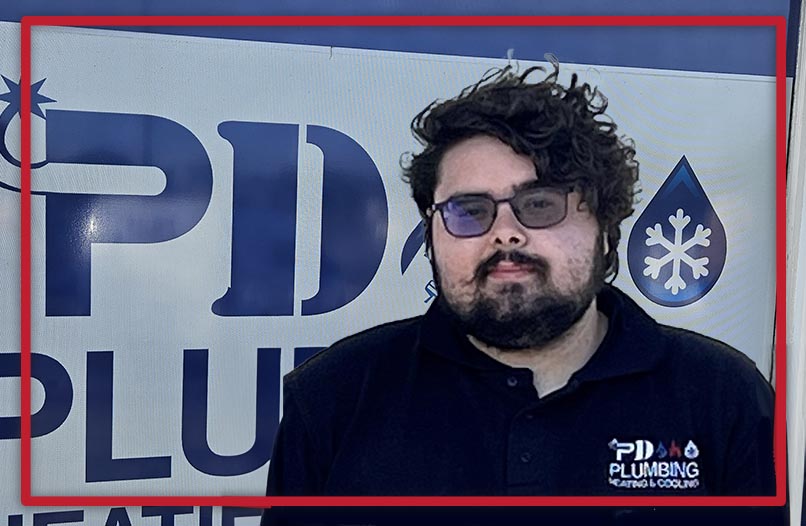 BRAYDEN COFFEY, HVAC TECH
Brayden Coffey is one of our newest members of the PD Plumbing Heating & Cooling family. He joined the PD family just in 2023 as an HVAC Apprentice and has quickly proven to be skilled and highly capable.
Brayden grew up right here in Wichita, KS. He attended school at Wichita Technical Institute.
He is incredibly well-trained at providing excellent service. Brayden has earned his BSP, NATE-ICE and EPA.
When he is not working hard toward mastering all the components and repairing and installing HVAC systems across Wichita, you might hear Brayden playing his trombone.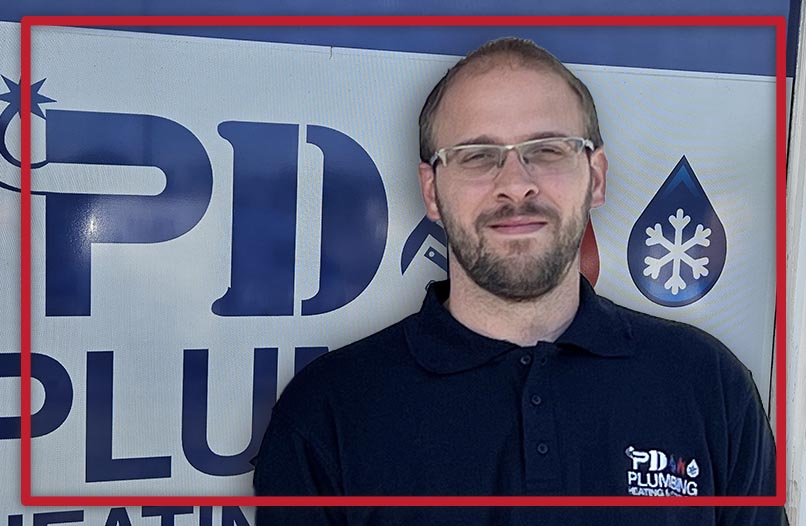 TRAVIS HATZENBUEHLER, HVAC TECH
Travis Hatzenbuehler is an HVAC technician with PD Plumbing, heating & Cooling with experience almost as long as his last name!
While he only joined the PD family in May of 2023, he came to us with 7 years of experience in the HVAC refrigeration industry. He is currently attending Wichita Technical Institute.
Travis grew up here in Wichita, KS. He and his wife are raising their large family of 5 kids -3 boys and 2 girls. Having children ranging from toddlers to teenagers is enough to keep Travis busy. But when he can find time, he most enjoys heading out on a good fishing trip.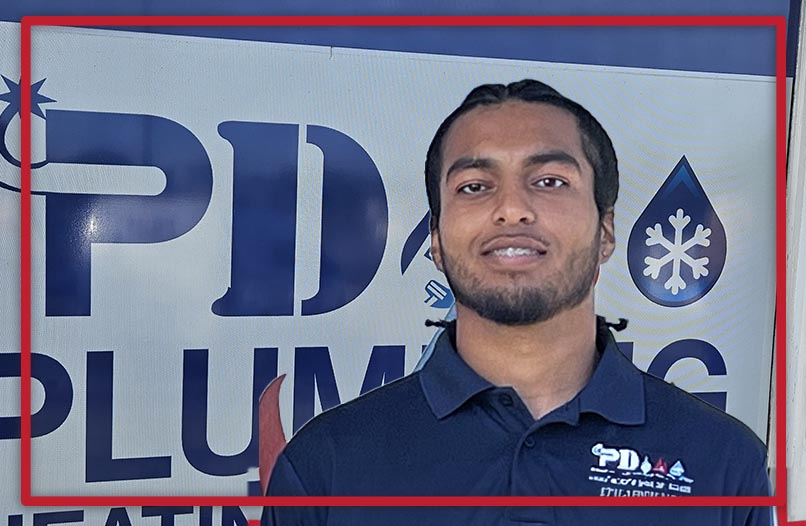 Je'Von Reed is one of the newest members of the PD Plumbing, Heating & Cooling family. Joining the company as we were expanding to fulfill the growing demand for AC and furnace repair and installation across the Wichita area, Je'Von is one of the many trusted HVAC technicians who you can trust to get the job done right and done quickly. 
Je'Von is a Wichita native who is continuing to further his education by attending Wichita Technical Institute. We are lucky to have techs like Je'Von who are working hard while going to school.
When not busy with work and school, Je'Von and his wife are definitely kept occupied raising their 3 year old.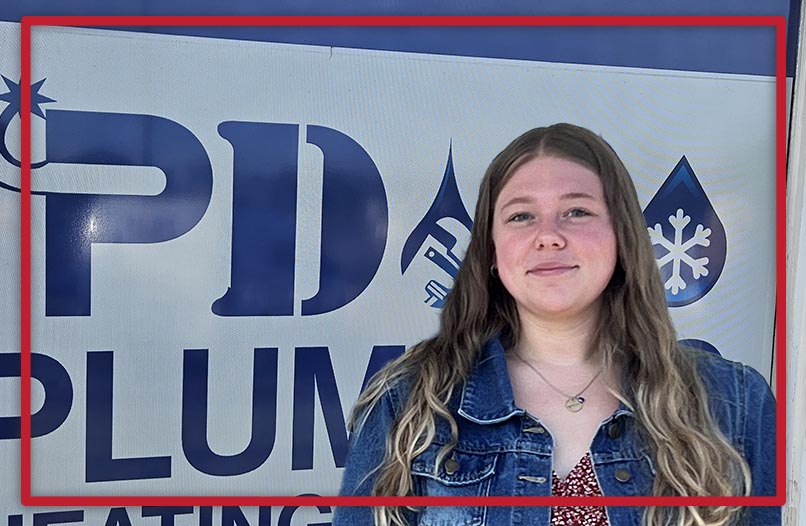 Kaylee Harris, Dispatcher & Office Assistant
Kaylee Harris plays a key role in making sure everyone in the Wichita area is getting their AC, furnace and plumbing repairs handled ASAP! As Dispatcher and Office Manager, Kaylee helps keep things running like clockwork, making sure our plumbers and technicians are getting out to repairs as soon as possible.
Kaylee joined PD Plumbing, Heating & Cooling in May of 2023 to help keep our growing business on track to handle the growing calls coming in.
Born here in Wichita, Kaylee attended South High School. Go Titans! In her free time, she enjoys being outdoors hiking, camping and landscape photography. Kaylee is also currently learning American Sign Language!