BEST HEATING & AIR COMPANY
Why Kansans Rate PD Plumbing Heating & Cooling 5 Stars!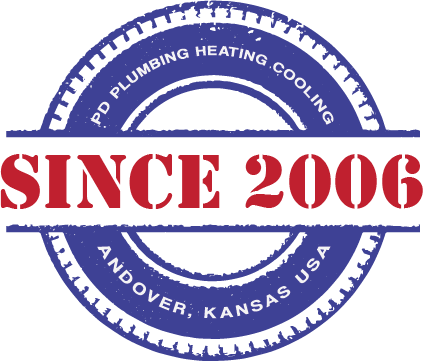 At PD Plumbing Heating & Cooling, we are committed to providing the best service to homeowners and businesses in and around Wichita, Kansas. That means giving customers exceptional quality service at a fair price. PD has provided professional HVAC service to the Wichita area since 2006. For over 4 decades, we've been the trusted HVAC company team your friends and neighbors have called on.
Very courteous & knowledgeable. Provide extra tip on how to do preventive maintenance on kitchen sink pipes. Really appreciated the technician wearing shoe cover before entering the house.
Tyler and Cooper did a very professional job. Explained all the steps clearly. Timely and courteous also. Thanks!
We used them for a full house new plumbing. They were very efficient, professional and courteous. I highly recommend using their business. They even came back after the job was finished to ensure satisfactory install.
I called and emailed several Heating and Air businesses in El Dorado without any responses. PD Plumbing emailed right back and I was able to schedule a routine heater inspection two days later. I received a text message when the technician was on their way. I would definitely use PD Plumbing Heating and Cooling again in the future.
The young men that came to work on our drain, were professional but very friendly. Along with being very knowledgeable. Definitely will call PD Plumbing the next time we have plumbing issues.
Timely, professional, personable, awesome. PD plumbing is the best plumbing/heating service in Kansas let alone my area.
Our A/C wasn't working. Hunter Tilson came out and did such a thorough job. He took Photos, made a List and sat down & explained everything to me of what he found and what was wrong. He then showed me the prices of what the repairs would be to which we did. He was at our home for about 5 Hours working to on to make sure it worked properly. We are so thankful he came out the same day we called & how thorough he was. Made my day and now we can all feel comfortable again with the A/C now working. Thank you Hunter for all you did! It was truly appreciated!
I have used Pd plumbing now for several years and couldn't say enough good about them. Very punctual, professional and the work quality is also good. I have always felt like I was treated fair. I have reffered many friends to them and will continue to do so !
Cooper was great! He went above and beyond to remove tree roots from my sewer lines and get my plumbing back up and going. I'm very appreciative of the time he took to correct the issue. Will use again for all my future plumbing needs.
I wanted the best because you cannot and should not mess around with anything plumbing related so I called PD plumbing. I am in Severy and they came out for a bit more than the regular price due to the price of gas. We were worried it was going to be a disaster because the area around the toilet looked like it was leaking. Bobby was able to find and fix the issue quickly. BOBBY IS THE BEST! Please be good to him PD plumbing. He was professional and his work is exemplary. We will stay with Bobby and recommend PD plumbing, thank you!