Troubleshooting an AC Blowing Hot Air
A Broken Air Conditioner with a Bad AC Capacitor
PD Plumbing, Heating & Cooling provides air conditioning repair and AC installation services for Wichita and all surrounding areas including El Dorado. In the summer, our team of expert AC repair technicians are kept busy helping homes across Kansas stay cool.
While many different things can happen to cause an air conditioner to break down, some can cause your AC to blow hot air. One reason why an AC is blowing hot air is because of a bad AC capacitor.
What Causes an AC to Blow Hot Air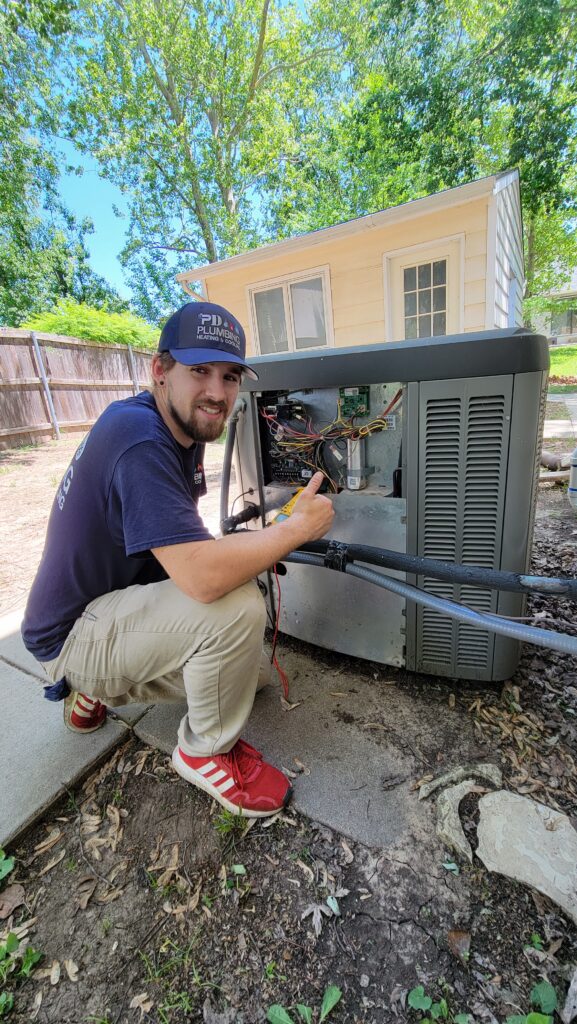 Feeling hot air from your vents when the air conditioning is on is concerning. It seems like your AC is completely broken, and you need an expensive repair or even an AC replacement. Fortunately, that is not always the case.
When an AC is not working correctly, such as blowing hot air, there may be an easy fix. In fact, there are a few troubleshooting steps a homeowner can handle to try to fix the hot air problem fixed right away.
One important troubleshooting step is to check your air filter.
A dirty air filter can cause a lot of problems to your home's HVAC system, including causing your AC to blow hot air. But this is a great problem to have! You can fix it easily on your own.
If changing a dirty or clogged filter does fix your AC problem, you may want to rethink your filter changing schedule. You may not be changing it frequently enough. How often a filter should be changed depends on many factors, including:
How many people live in the home
If there are pets in the home
If your city has air quality problems
If there is construction in our around your home
If residents have allergies or respiratory issues
Many people do not realize the serious effects of letting your system run with a dirty filter. It can shut your entire HVAC system. If your air filter looks dirty, change it. That alone may be the only fix your air conditioner needs to begin blowing cool air again!
Bad Capacitor Causing AC to Blow Hot Air
The AC capacitor is one of the many components of your home's cooling system. It is inside the outdoor condensing unit and works with your electrical system. The capacitor delivers power to the AC's motor. A capacitor can last about 20 years.
The capacitor causes your AC to kick on when the temperature is above the desired thermostat setting.  And then it keeps the AC running until the house has reached the right temperature.
What can cause an AC capacitor to go bad?
Many things can damage a capacitor. Since it works with electricity, an electrical problem such as a power surge or a lightning strike could have hurt this component. But sometimes just a lot of demand on the unit or normal wear and tear that comes with age can be all it takes to make a capacitor bad.
What are Signs of a Bad AC Capacitor?
While the capacitor can cause a cooling system to stop working, that isn't always what happens. Sometimes the AC can continue working, but a bad capacitor will cause other problems.
A home's HVAC system should not be running with a bad AC capacitor. So, if you run across any sort of cooling problems, get those addressed right away. Waiting on repairs can cause more damage to your system, which may require most costly repairs or a premature AC replacement.
Bad AC Capacitor Symptoms:
AC shuts off randomly, before desired temperature has been reached
Not blowing cold air
Energy bills have gotten noticeably higher
Strange humming noise from your outdoor AC unit
Smoke or a burning smell from your outdoor AC
Wondering if you have a bad AC capacitor?
Contact PD Plumbing, Heating & Cooling anytime – we provide after-hours emergency service. Give us a call at 316 871-5499.
If it is not an emergency, you can send us a message online to request service.